You can find gold pendants in various shapes, providing a wide variety of options when it comes to standing out from the rest. At Merlin, each pendant is intricate and masterfully crafted, representing not only your taste for the finer things in life, but also serve as a symbol of the values you hold dear. Let's take a deeper look at what the shapes can symbolise below.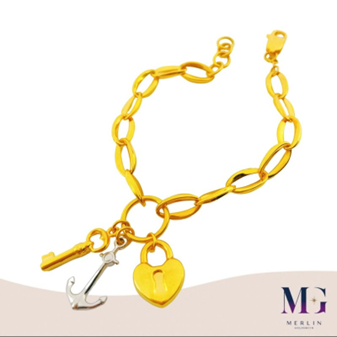 Anchor:
In the modern era, the anchor, such as the one found on our 916 Gold Italy Link Chain Bracelet, conjures images of seafaring and a love for the ocean. In addition to being a maritime symbol, it is deeply rooted in the principles of hope, loyalty, perseverance, and steadfastness. Furthermore, as the anchor is not associated with a feminine or masculine symbol, it is popular amongst many and versatile to be worn by almost everyone. If you are looking for a gift to a friend or loved one that you consider as a refuge when you are going through a storm of turbulent times in your life, then the anchor is definitely the one. Moreover, if you have recently conquered difficult obstacles, get this as a reward for yourself, as well as to assure yourself of the strength you possess to overcome any challenges that might come next.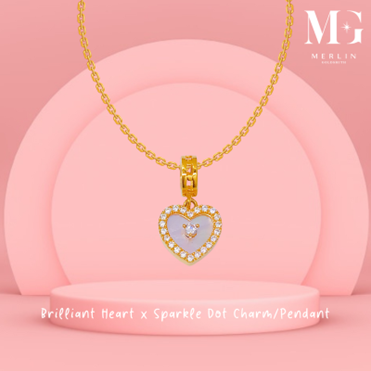 Heart:
A classic symbol of love, the heart is popular amongst those who want to send a romantic gift to the ones they cherish, especially during special occasions such as Valentine's Day. However, do you know that it can also be a symbol of self love and empowerment? In our chase for success and breakthroughs, be it in our academic, professional, or personal endeavours, it can be easy for burnout to happen. Having a heart pendant on us can be a reminder to slow down, relax, and be kind to ourselves. As a sign of compassion and kindness, it emphasises on the need to not only practise these qualities with others but also to extend them to ourselves. To add some sparkle to your life, why not take a look at our 916 Gold Brilliant Heart X Sparkle Dot Pendant?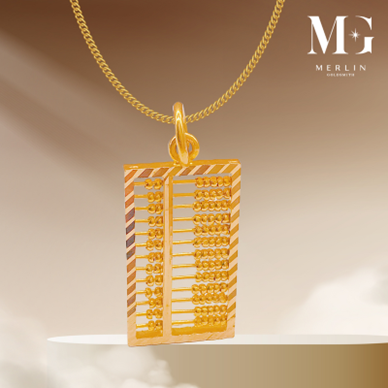 Abacus:
This instrument, used primarily for counting, can be found dating back centuries and spanning across different civilisations. From Ancient China, Babylon, Greece, and Japan, variants of it have been found. The symbol of the abacus has been associated with wealth due to its use of keeping count, it is also linked with prosperity, with some even using it as a talisman to bring in good fortune. Furthermore, it is also linked with academic success, especially in the field of mathematics. Gift this to a friend who is dedicated to the pursuit of knowledge as well as wisdom, as encouragement for them to excel. Why not also consider adding an abacus like the 916 Gold Classic Large Abacus Pendant to your jewellery collection? You might find financial abundance and a wider range of opportunities.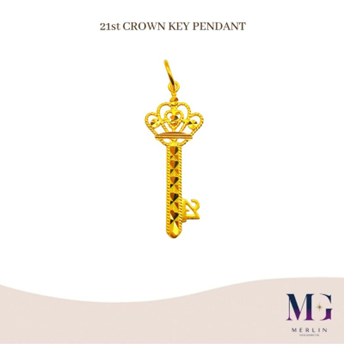 Key:
A popular gift for those who reach the age of adulthood, keys represent new possibilities and beginnings as their practical purpose is to unlock and lock doors. Once a person reaches a certain age, they are said to enter a new phase of life, being ready to undertake new responsibilities as well as being on track to carve their own path. A key also represents the power of clarity in revealing things that were obscured or overlooked and is said to manifest in its wearer, the power to overcome all sorts of barriers. In addition to those who have come of age, such pendants can also be gifted to your family, friends, or even yourself when approaching a transitional phase in life, such as a graduation, or a change in career. If you are browsing for a key pendant, our 916 Gold 21st Crown Key Pendant, may be the perfect piece.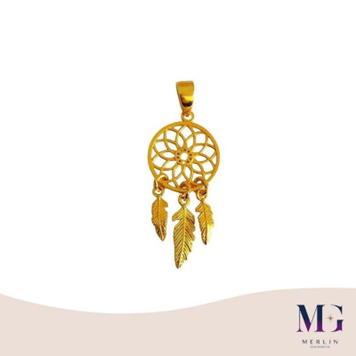 Dreamcatcher:
Traditionally hung over the bed to protect sleepers from nightmares and bad dreams, it is also used as a talisman to foster traits of kindness, maturity, and loyalty. Therefore, a dreamcatcher pendant can be a heartwarming gift to a friend or loved one who is moving abroad, as it serves as a symbol of comfort and protection, along with the warmth and love they carry with them wherever they go. It can also be a symbol of hope, acting as a cherished keepsake for those who are going through tough times, reminding them that they have the strength to filter out negativity and hold on to the positive aspects of life. Take a look at our 916 Gold Italy Design Dreamcatcher Pendant, a beautiful piece that can be a meaningful token for you and your loved ones.
Are you interested in gold pendants?
At Merlin, our pendants are made from 916 or 999 gold, guaranteeing a lustre shine that comes from the precious metal's glow. Be it intended as a gift to yourself or a loved one, we have a wide variety of choices to suit your wants and needs.
Feel free to explore our online store to view our extensive collection and expand your gold jewellery collection.
If you have any questions or doubts, feel free to contact us and our friendly staff will be in touch soon.