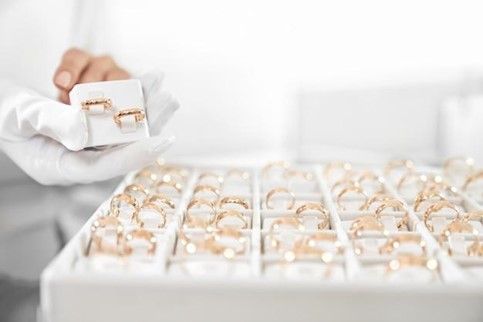 What Is the Allure of Gold Wedding Bands?
Gold is renowned for its resistance to rust and discolouration, being able to remain pristine for many years to come. Therefore, many see this precious metal as a symbol of eternal love. Just as gold stands the test of time, so too does the commitment and devotion represented by such a wedding band. However, beyond their traditional role in weddings and engagements, gold rings possess a versatility that many may not know. In this article, let's uncover how they can elevate your style on numerous occasions, from glamorous events to everyday life.
What Are the Different Occasions for Gold Rings?
When you think of gold rings, you might conjure up images of weddings and engagements, but these jewellery pieces are far more versatile than you imagine. Whether you are attending a formal gala or going about your daily life, gold rings can play a part in elevating your outfit. Let's look at the many occasions where they can be worn.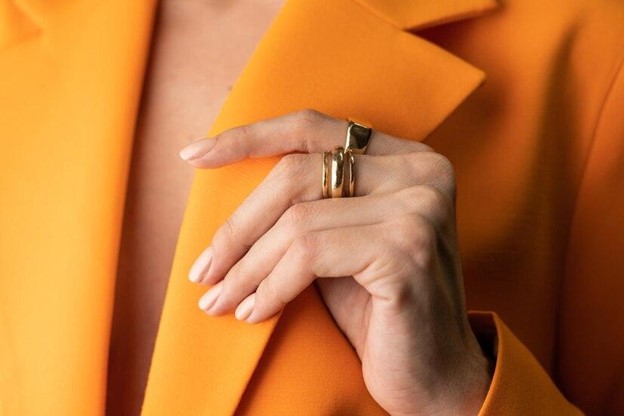 Glamorous Occasions
When it comes to formal and special occasions, gold rings are exceptional in adding a touch of opulence to your outfit. Such occasions demand an extra touch of opulence and sophistication, and this is where gold rings truly shine. Whether you're attending a dazzling gala, a prestigious awards ceremony, or celebrating a milestone achievement, gold rings are exceptional accessories that elevate your outfit to a new level of elegance.
For those special occasions, consider indulging in intricate and statement gold ring designs. Think about rings adorned with elaborate engravings or unique shapes. These designs are sure to be conversation starters and can complement your formal attire flawlessly, making you a memorable presence in every glamorous setting.
Gold rings not only capture attention and elevate your outfit but also showcase your exquisite taste. People often notice the fine craftsmanship, the gleam of the precious metal, and the overall aura of sophistication that the jewellery exudes. Therefore, your choice to wear a gold ring will leave others with a good impression of you as a sophisticated individual.
Formal Settings
Contrary to popular belief that gold rings are only reserved for special occasions, their versatility extends to formal settings. You may have also been advised against wearing jewellery to events such as business meetings, corporate conferences, or award ceremonies. However, gold rings can indeed have a place in these events.
When it comes to formal settings, you are expected to look your best, and gold rings can play a huge part in doing so. Their rich, lustrous appearance and classic appeal elevate your formal look. Adding on, it also serves as a tasteful accessory that reflects your attention to detail and commitment to presenting yourself at your best. Furthermore, it can be a subtle symbol of your competence, attention to detail, and commitment to excellence. In a formal setting, it can be a silent but effective tool in asserting your presence and competence.
As our rings are made from 22K gold, they not only look elegant but are also durable. Being able to withstand the test of time and the demands of daily wear, they maintain their exquisite appearance. This durability, combined with their luxurious appearance, makes them excellent choices for regular wear, even in formal settings. Adding on, you can simply put them on, knowing that it will elevate your outfit effortlessly.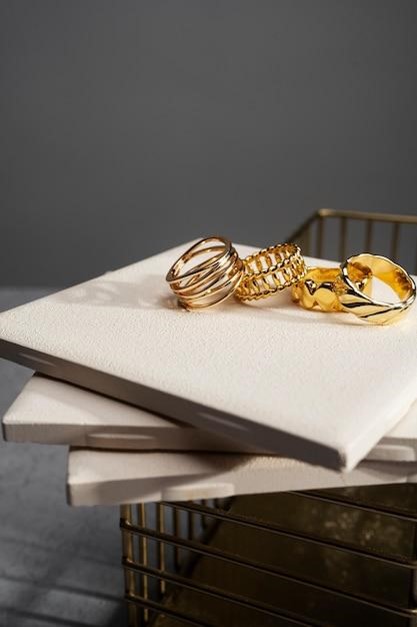 Everyday Life
Gold rings have an innate ability to blend into your daily routine seamlessly. Whether you're heading to work, meeting friends for brunch, or simply running errands, a gold ring can add a touch of elegance to your outfit without feeling overdressed.
Selecting a gold ring for everyday wear is about balancing style and comfort. It's best to opt for designs that are subtle and minimalistic. Think of delicate bands or simple stacking rings. These choices ensure that your gold ring becomes a natural extension of your personal style, allowing you to move comfortably throughout your day.
Minimalistic rings can exude sophistication without drawing excessive attention, adding a touch of refinement to your look without being flashy. And you can incorporate them easily into your daily routine, adding elegance to your daily life.
Are You Interested in Gold Rings?
Now you know how versatile gold rings are and how they can be incorporated into multiple aspects of your life, you might be interested in adding them to your collection. At Merlin, we have a wide range of gold jewellery to offer, which you can browse through in our online shop.
If you have any questions or doubts, feel free to contact us and we will get back to you soon.