Gold has been among us for centuries. Owning gold jewelry is a symbol of status and financial wealth. With the world being hit by an unexpected pandemic, people have been more cautious with how they spend their money. But did you know that buying gold is actually beneficial to your financial health? Here's why :
Easy liquidity
Gold has been known to be a valuable investment tool because of the liquidity it offers. Compared to other forms of investment such as stocks and bonds, gold is an asset that is easy to liquidate in times of an emergency making it a 'safety net' for people. There is a huge market for gold and one can easily locate buyers. Thus, the ease of investment is another reason to include gold in one's investment portfolio.
Investment
Gold has appreciated in value over the years. Even during the ongoing pandemic, gold has maintained, in fact increased in value, making it a stable form of investment. Considering things are still very much uncertain with regard to the coronavirus, and the global economy is still healing, investing in gold is a safe path towards wealth creation. Gold has been proven to withstand economic and geopolitical uncertainties. Another reason to invest in gold is the transparency that comes with it. Unlike any other financial investments, gold is extremely easy to purchase and trade in without involving any tedious process.
Generational wealth
When it comes to investments, we usually think of the monetary gain. However, gold can also be used to be passed down from one generation to another. Gold can be used as a long term investment in building family assets as it carries your legacy to the future generation. In Asian households, physical gold is also a symbol of family wealth. In wedding ceremonies, gold is given as a form of blessings. Certain gold jewelry may hold a sentimental value to the owner, forming heirloom pieces.
Jewelry
Yes, gold is a profitable form of investment but at the same time, it can also be used as jewelry. People love to wear jewelry not only for the heritage, glam or their liking towards it but also for the positive effect it brings to their body which creates an aura of greatness and everlasting happiness. Gold today comes in many forms and designs, whether it's earrings, bracelets, rings or even necklaces. You can custom make your own jewelry, set the budget and even pay in installments. All of which wasn't available before. However, do take note of the type of gold you're investing in. There are two common types of gold sold here in Singapore, the 916 and 999 gold. 916 gold contains 91.6% of gold and is mixed with other metals while 999 gold contains 99.9% gold (the purest form of gold). To read more about this, please click here.
Here at Merlin, we carry a vast range of designs to choose from. Take a look at some of our best selling jewelries :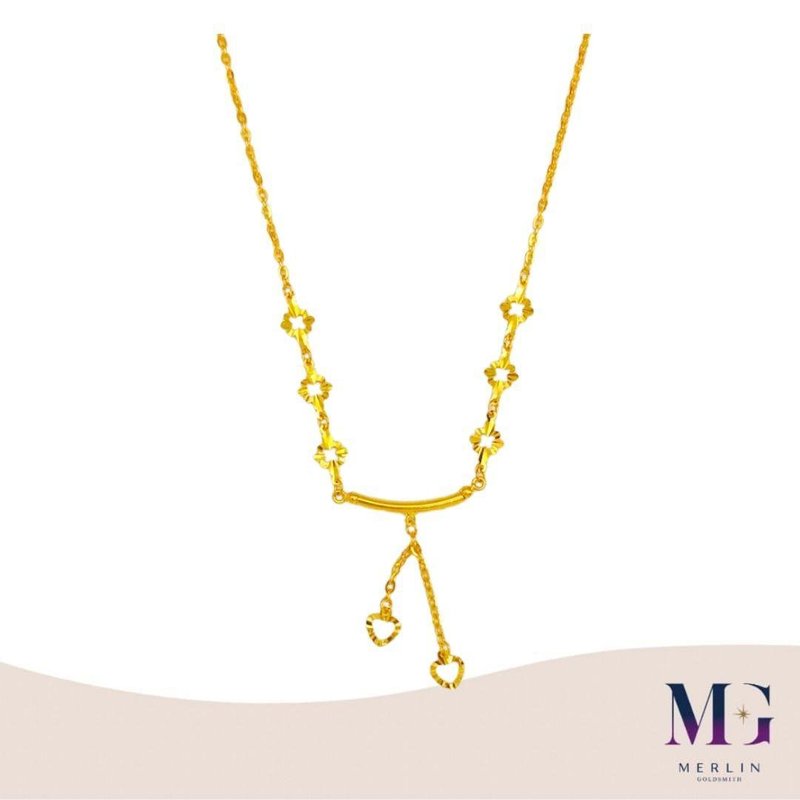 Connected to a pair of hearts at the bottom, retailing for only SGD 827.00, this elegant looking necklace makes a perfect gift for a loved one during a joyous celebration!
Or pay SGD 206.75 x 4 with PayLater by Grab.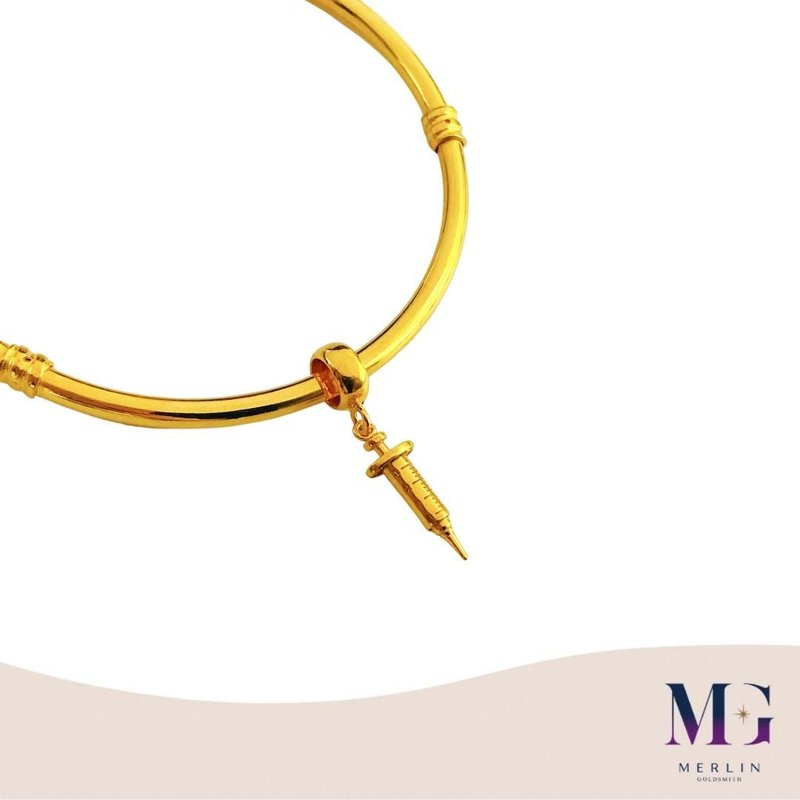 Received all your vaccine doses? Celebrate being a responsible citizen by getting our 916 gold syringe charm that can also be doubled as a pendant! Retailing for only SGD 240.00.
Or pay SGD 60.00 X 4 with PayLater by Grab.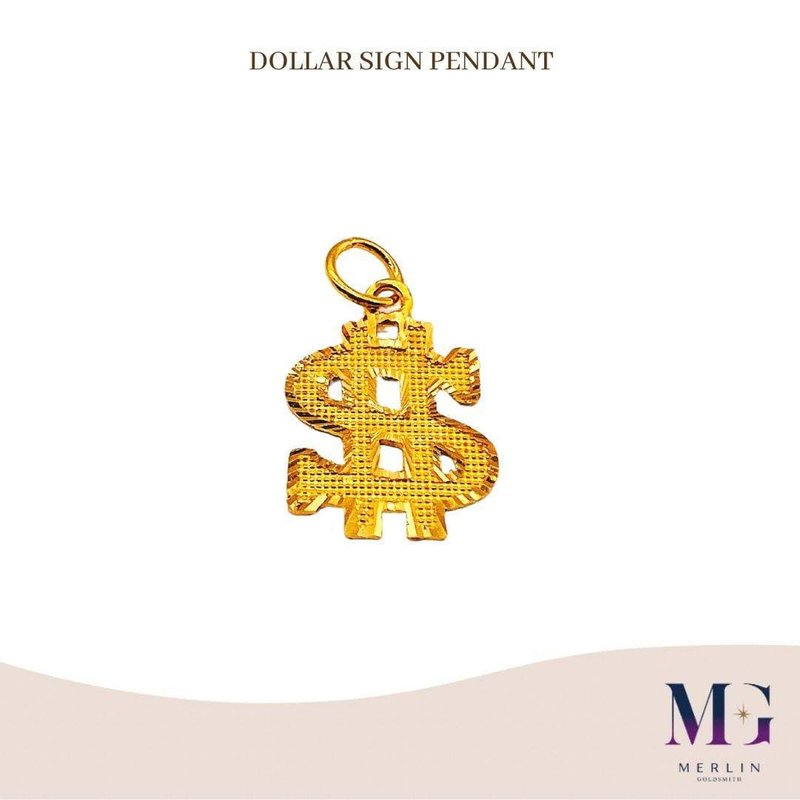 A fancy looking piece of gold dollar sign pendant to manifest wealth in your life! The dollar pendant paired with a gold chain adds a touch of elegance and glamor to your outfit. Be prepared to receive compliments when you put this on! Purchase this pendant for only SGD 584.00.
Or pay SGD 146.00 X 4 with PayLater by Grab.
Gold can also be purchased in the form of coins and gold bars, not necessarily only jewelries. Please do not hesitate to contact us to know more regarding the gold bars we carry or click here to browse through our jewelry designs. You will definitely find something you love here at Merlin!